Putting Veterans to work is the end goal. I believe this will be the biggest factor into stopping Veterans Suicide. We need to do more than just welcome them home and go our different ways. Part of being there for them is more than a hug and a warm sentiment.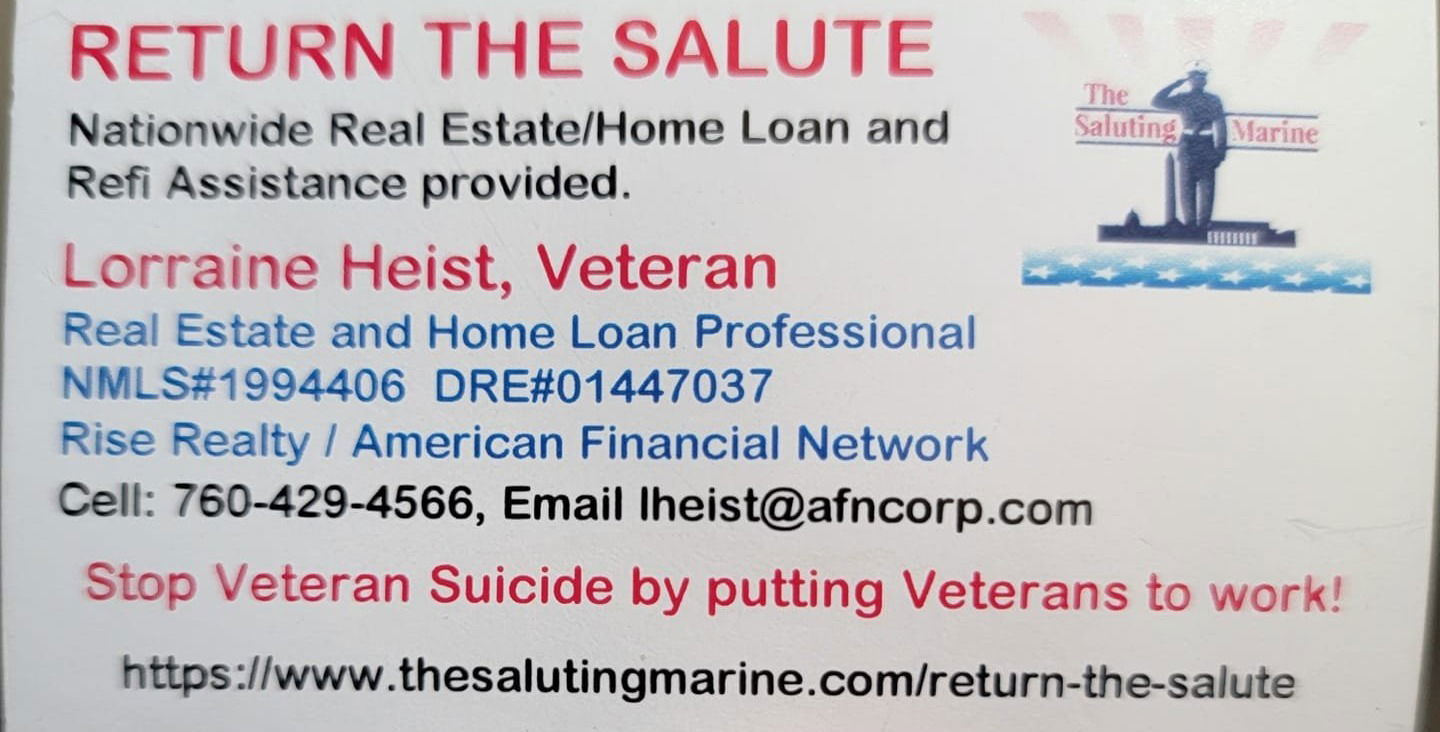 Veterans signed a contract. Now the government fails to honor that contract. Society can help pick up the slack by simply looking out for these brave souls as they march back into society by giving them your business.
With my notoriety as "The Saluting Marine" I am willing to solicit any Veterans business through my social media and creating ads to help bring them business.
No one is saved at the picnic or BBQ. We need to do more. When a flag is presented, we present it on the behalf of a grateful Nation. Hollow sentiments if we do not take action and show it not through words but action. Action saves lives.
Essentially my charity is becoming a lead source to help inspire society to return the salute and put a Veteran to work. The end game is not necessary a donation back to the charity to continue to fund the ads, marketing, etc. because I am fully aware that for the small business owner it is expensive to keep a business afloat and provide for the home front. The primary goal is the get the Veteran working so he or she will hold themselves accountable to themselves. The best medicine.
I do currently have a Veteran that does mortgage loans and refinances as well as help people with any of their real estate needs on a Nationwide level. When I find the leads through my charity, and the deal concludes, the Veteran has offered to pay for the lead. That donation to my charity can stay within the confines of TSM Cares or it can be donated back to the individual who passed the lead to TSM Cares to make a bigger impact in their own community.
This is a win on all fronts. To be efficient, get more done and improve the quality of life of our youth, less fortunate and our heroic Veterans.
This has the potential to grow on a Nationwide level and give the big companies that throw pennies back in the community that gets absorbed into admin costs and hardly helps anyone, a run for their money. We rely upon them too much, and not enough gets done. They spend more money paying off politicians than what goes back to the community, and then the welfare of our Nation is put on the back burner, instead of the forefront.
The only way to shift the paradigm is through solid, efficient, transparent grass roots initiatives working together and cut out the major corporations.
So much more can be done to help those in need and not take away from hard working Americans who earned what they have. No more donations, handouts or nipples. This holds back the potential of amazing citizens who answered the call.
So join me in this journey and lets really show our Nation's heroes our support. So the next flag I present I can feel in my heart that it was "Presented on the behalf of a grateful Nation!"